HOW TO PURCHASE ART YOU ARE INTERESTED IN
Once you have decided which artwork you would like to purchase:
Please locate the QR Code on the card beside the artwork and scan using the camera on your mobile phone.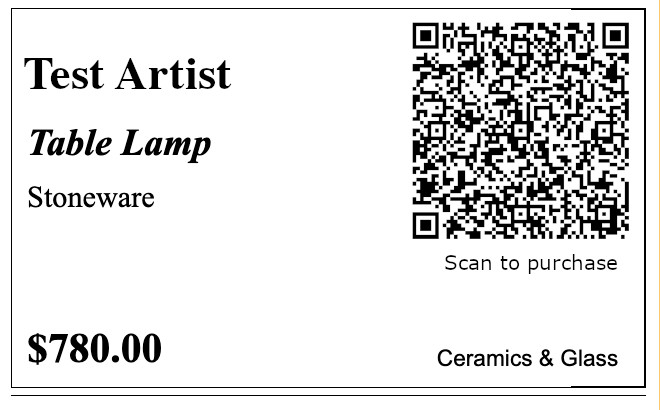 Follow the link displayed, check the artwork is the intended purchase before clicking the "BUY" button.
You will have 8 minutes to complete the purchase.
Please enter your contact information, click "Purchase Artwork" and enter your payment details.
If the artwork is in the process of being purchased by someone else or is already sold out, the "BUY" button will not be available.
If you wish to purchase more than one piece of art you will need to do a separate transaction for each artwork.
Once payment has been made the sale is complete and a red SOLD sticker will be displayed on your purchased artwork.
If you require help with this please ask one of our committee members and they will be able to assist.
We will of course still have a sales desk so please feel free to approach the desk if you are having trouble. Payment here can be made in full via EFTPOS, Visa or MasterCard and cash. Cheques and AmEx are unfortunately not accepted.
THIS YEAR WE ARE OPENING UP SALES ONLINE FROM FRIDAY 10PM UNTIL SUNDAY 10AM.
HEAD TO OUR WEBSITE AND YOU WILL BE ABLE TO PURCHASE ONLINE.
YOU MUST BE ABLE TO COLLECT YOUR PURCHASES ON SUNDAY 29 OCTOBER BETWEEN 1PM AND 3PM.